I'm not a fan of upgrades. I think they're a waste of my time and a waste of resources. I don't like new phones, new computers, and I don't even like shopping for new clothes. But these days one must ultimately give in to all the new and shiny things or risk becoming a luddite. In my profession that's a label I can't afford. So in search of a new direction, better organization, and a sparkly internet, I've moved to Wordpress. Yeah, yeah, I know. Finally.
http://onesheephill.wordpress.com/
Time for another shaky, dizzying garden tour, this time with hot-afternoon-sun-high-contrast-overexposure. Enjoy!


One of these days I'll get a better camera. Until then I apologize for any dizziness that may occur when viewing these virtual garden tours.


The second installment in my new monthly garden tour series. Friends who visit know that I usually do garden tours with a glass of wine in hand. So pour yourself a chilled california chardonnay and follow me.


I've been thinking about making a video of my garden for awhile. Mostly for family who don't visit during the growing season (or, ahem, at all), and for friends who don't have the time or money to make the trek to the Hill (my bank account and schedule sympathize). So I made one this morning and figured I might as well share it with the world.
I haven't made many videos, so bear with my inexperience. I filmed this on my ancient digital camera, and I didn't make any attempt to clean up the yard or the garden before I got started so this is One Sheep Hill raw and unkempt. I'm hoping to do a couple more as the growing season progresses to show how everything fills in. May always looks a little spare out there, while everything is just getting started.
OK, enough disclaimers. Please forgive the mess and the rest, and enjoy the video!
http://youtu.be/p36z-emFkvc
Whatever the reason, Spring came early to the Hill this year. Some years we get hard freezes in late April. This year I had to take the frost protection off the tomatoes in late April because they were wilting in the heat. Some years I don't direct-seed the corn until early June. This year it's already in the ground as of last weekend. Judging by the weather so far, this is going to be a long, hot summer. Which is fine, as long as LA County doesn't do something stupid like restrict all outdoor watering while allowing unrestricted indoor water use. Which was actually proposed at one point a couple years ago, prompting me to write a letter to the water district asking that we let the market sort out how we spend our water rather than favoring people who choose to live with 12 of their relatives and never go outside. But I digress.
This year I'm trying to be more diligent about getting the garden started. I usually just throw a bunch of seeds and starts in the ground and hope something makes it, and I'm always disappointed when we don't get any heirloom peppers or the winter squash don't set as well as they should or any number of other crop failures that can be expected when one neglects one's garden. And I never mark anything so I'm always guessing about what's sprouting or fruiting, which makes for interesting pre-dinner conversations in which I have to warn Greg that I forgot to mark the hot banana peppers and the sweet banana peppers (again). So this year I'm trying to be a little more diligent about the whole thing.
So far in the ground I have:
Giant Orange Amaranth
Cherry Vanilla Quinoa
A whole mess of heirloom tomatoes
Golden Sunshine Beans
Cherokee White Eagle Corn
Lettuce
Kale
Cabbage
Garlic
And sprouting away in pots I have:
Sweet Dumpling Winter Squash
Musquee Winter Squash
Banana Melon
Crane Melon
Scaly Bark Watermelon
Striata Zucchini
Scallop Squash
Pepperoncinis
Bergamo Peppers
Purple Tomatillos
Yellow Egg Eggplants
Fengyuan Eggplants
Apple cucumbers
I just need to round this out with a few hybrid tomatoes, cucs, and eggplants from Home Depot, which is a preventative measure I always take against diseases. If wilt disease or whiteflies take down all my heirlooms, at least we'll have something to eat.
This is my seedling table, worthy of ThereIFixedIt.com don't you think?
I used whatever little pots I could find, plus made some
newspaper pots
which I love more than any person should love seedling pots. Then I topped the whole thing with bird netting, having learned the hard way in years past that birds are not a beneficial garden visitor this time of year. Also not beneficial despite what the California Master Gardener's Handbook might tell you? Earwigs. Earwigs are apparently harmless little insects that feed on dead matter. Except out here on the Hill where they reproduce to such levels that the exterior walls of our house are dripping with them and they happily wipe out my entire garden in one night. So that's what those little dishes of water are for at the bottom of the sawhorses. And also carbaryl. In May this is not an organic garden. I like to amuse myself with the phrase "Sevin for all mankind" but only people who know pesticides AND fashion will get that so don't mind me.
To top off my garden diligence, I marked everything this year, even the sweet peppers and the hot peppers, and all of the heirloom tomatoes.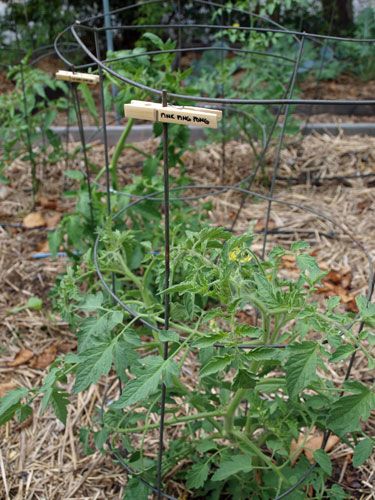 Hopefully all this extra preparation will pay off this year, in the form of a bountiful and diverse harvest. Next year I'm looking forward to cobbling together a cold-frame on earwig-proof stilts so I can get this all going in February. Global warming is going to be tasty.
Identity is a touchy subject in my profession. It's a generally accepted rule that you don't call yourself a Librarian unless you have a Master's degree in some sort of information studies. Just like a Nurse wouldn't call herself a Doctor, the terminology matters to us. When I use the word "farm" to describe my humble abode, it's tongue-in-cheek, started as a way to make fun of the little mud pit we built a homestead in. My grandparents, or heck we don't even have to go back that far - my parents would call what I do "having a garden," or just "life." I don't make any money from my "farm" and I certainly don't have to deal with the myriad and burdensome regulations that real farmers have to sort through to make it legal. And most importantly, if one of my crops fails I'm not left destitute or at the mercy of the bank. My modest lifestyle, or at least my job security, is a life of luxury compared to many farmers.
I recently attended the
California Small Farm Conference
for a second time, having attended the first time last year in Valencia, just about 20 minutes from my house. The best part of the Farm Conference is the farm tour day, held before the sessions start. There's always a few different options so you can select whichever one matches your interest. Last year I selected the Urban Farm Tour, which promised to visit real working farms right here in LA, or well, Altadena anyway. Awesome, right? I thought I could find out how to actually make a living in farming in this beautiful little city, and I thought I would learn about how to do it legally, knowing that regulations on such things are almost insurmountable. Turns out every "farm" we visited was just another version of what I do. A few chickens, some vegetables, maybe some bees, all financially unsustainable and downright illegal, and every damn one of them calling themselves a farm in a completely un-ironic way. On top of all that, every one of the "farmers" was (by my standards) filthy rich, from pursuits other than farming.
I figured this year, with the conference being held in Fresno, the hipster farmers wouldn't be committed enough to travel. It's kind of sad that I was right, but I didn't miss them. This crowd was the real deal. From the farmers to the researchers to the journalists to the few farm groupies like myself, everyone I encountered was realistic about farming and knowledgeable about the issues facing farms today. And boy are there ever big issues right now, government regulation being number one.
Many of the sessions I attended featured two farmers and some sort of government entity representative, or in other words, inspiration and then the cold hard reality. Not surprisingly, the interpretation and
implementation of the Cottage Food Act
is being mangled by bureaucrats, leaving it useless to many. And
new legislation regulating CSAs is in the works
, which is bad news for anyone involved in this formerly grass-roots farm-saving business model. In the panel I attended on CSAs, neither of the farmer panelists will qualify to use that term anymore under the new regulations, even though both are clearly the real deal, and neither wanted to be protected from what the State thinks they need protection from (that being people who might form CSAs out of the wholesale produce markets in LA and SF). Water rights and access is another alarming issue, with all kinds of new regulations and interpretations being set every day, and new rules about food safety are nipping at farmers' heels too. The push and pull between organic and conventional methods and all the shades of gray that are so hard to convey to consumers who only want to see in black and white is maddening. And last but not least, population and development, and access to land and capital are old news in our expensive golden state. I suppose it's knowing all of this that makes the frivolous use of the words farm and farmer irksome to me, just as I'd be annoyed if just anyone working in a library called themselves a Librarian. But kudos to those who keep a sense of irony or whimsy, and those who know what they don't know about being a farmer, and those who
try to learn
as much as they can, and those who find some other term.
Micro-Farm
is among my favorites. For now, I am not a farmer. I'm just happy that they let me be a part of their world every year.
Farm Tours, 2013. My selection: "Diversity of Crops, Diversity of People," focusing on growing and marketing unique produce.
The farmer on our first stop used to grow all kinds of different produce. Now he's aging, his wife is ill, and his children aren't that interested in farming. So he planted less-labor-intensive almonds this year, and eggplants amongst them while he waits for them to become productive.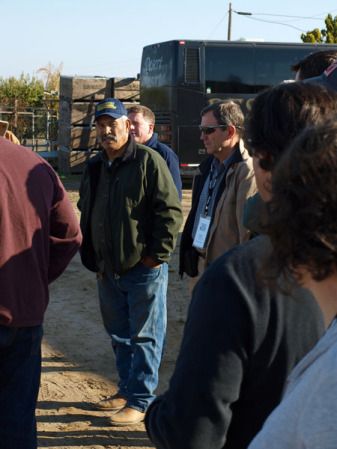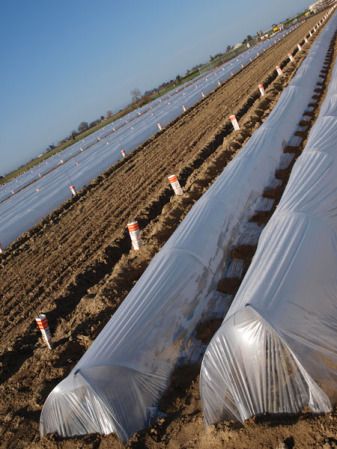 Tiny eggplant under cover, he said he hopes to harvest by May.
His original equipment he started with when he immigrated here from Mexico.
The Hmong farmer we visited next, who fed us a delicious Laotian lunch. Well, pre-lunch, since we ate again at our last stop. He also gave us loofah seeds.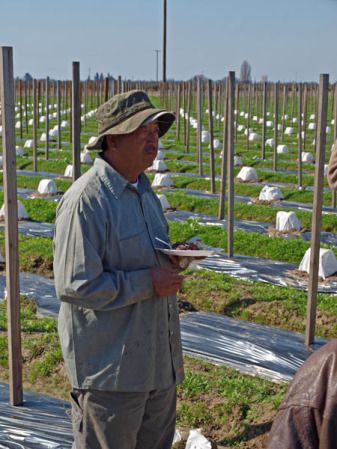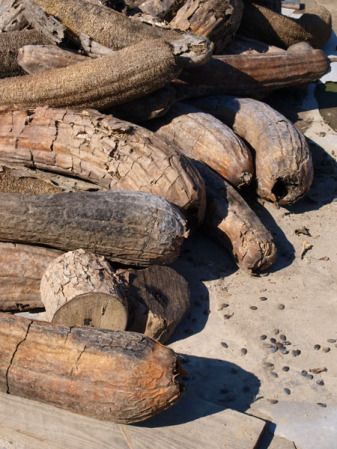 High Tunnels and Jujube trees.
And then we visited a citrus farm during harvest. This, even more than our other stops, raised some interesting issues about the ethics of the observer, but that's another rant for another time.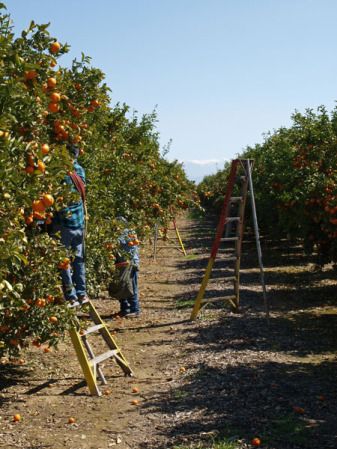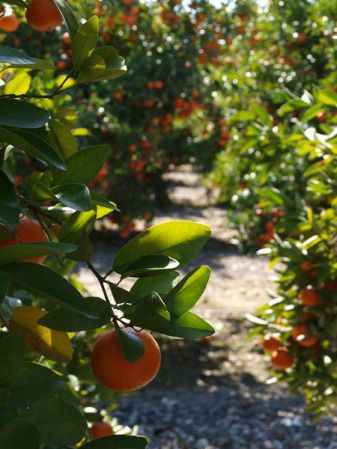 The whole Valley was in bloom.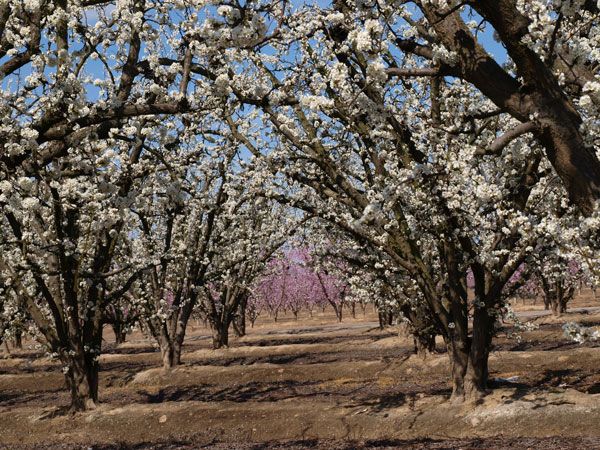 Our last stop was a peach farmer/painter who doesn't grow organically but does grow sustainably. He fed us a Mediterranean feast.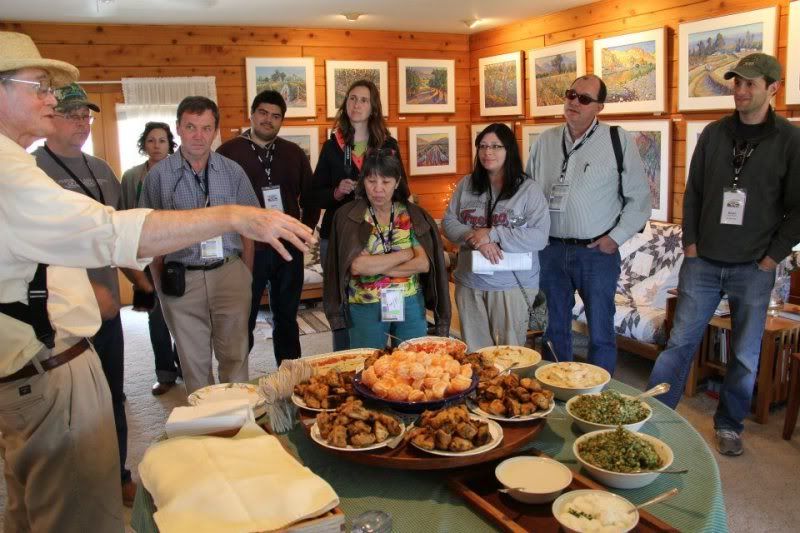 [photo credit: Aziz Baameur]

I'm amazed at the color he's able to find in the Central Valley scenery.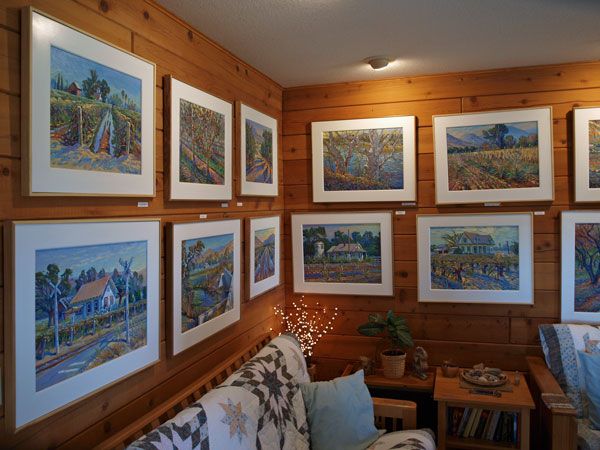 His peaches and his dog.
He scooped up a shovel of his dirt and dumped it on the road with a shovel of his neighbor's dirt, from this orchard. His was dark and rich and his neighbor's barren, reinforcing his ideas about intensive composting.
Our tour group.

[photo credit: Aziz Baameur]

When it comes to food, the people of Fresno are having the last laugh on all of us. They get the freshest, widest variety in the nation, and some of it never even makes it's way to LA or SF or any of their burbs.
It was an inspiring conference, with inspiring people, and inspiring produce. Next year: Sonoma. AKA "home."
Even though this challenge kicked my ass towards the end, and I'm utterly exhausted and I miss my couch and my magazines and my kitties (except Studiocat, who's been thrilled with my recent habits), it was totally worth it. Lessons learned:
1. I love working small. Screw all those people who say you have to work big. I work in a tiny studio and I live in a tiny house, and I want to draw tiny pictures to hang on my walls. And maybe the walls of my friends and hopefully someday the walls of tiny-picture-loving strangers.
2. All my teachers were right about thumbnails. When I try larger works success is a crap-shoot, and doing this here little exercise showed me that sometimes the photos I use, even though they are all my own and all composed with drawing in mind, are simply un-drawable. Better to work that out using the least amount of time and expensive art supplies as possible. I've been resistant to thumbnails, but from now on I'm going to start with several smaller sketches before I try anything larger.
3. I do my best work under some sort of restriction. Assignments, deadlines, requirements, and limitations are all far better for my creative process than complete freedom. But I knew that already.
Here's the final 9. There's a couple distinct themes this week, which I didn't notice until I laid them all out together.
Out of the full 30 there's 8 that I truly dislike, that will go away to live in my portfolio of failures. But 22 successes out of 30 ain't so bad.
When I'm in my studio I put on TV episodes on Netflix, which I halfway-pay-attention to while I'm working. I know I've been successful when I have no idea what I've been "watching" for the last 3 hours. This body of work represents Foyle's War and Treme in their entirety, sizeable portions of Dark Shadows, Californication, and Weeds, and a smattering of Justified, In Plain Sight, and Project Runway. I'm going to need another challenge. Season 2 of Game of Thrones was just released.
Each week seems to get harder than the last. With each successful drawing my standards grow ever higher, and the difference between the sketchy sketches I started out doing and the fully considered works I'm doing now grows larger. They say that if you work without regard for the final product, the final product is your style. So I guess finicky and overworked is my style, much as I try to resist it.
Fitting this daily drawing into my daily routine has grown more challenging too. When I started I was careful to define the challenge as 30 drawings in 30 days rather than a drawing a day. I figured I would get ahead or make up time on my weekends, but I've been sticking pretty close to a drawing a day and it's actually been my weekdays that are my most productive. I get home way too late to make dinner or do any chores or, say, rototill the garden, so the hour that I stretch to three between the time I get home and the time I should be in bed is completely and guiltlessly mine. I do miss reading the paper, although I find that criminal activity of both the street and congressional variety carries on just fine without my attention. But this last week in particular, work has left my head spinning and drained my artistic motivation. I knew what I was getting into when I asked for more responsibility, and I thrive in a challenging environment, but damn if it hasn't been exceeding my expectations lately. This exercise is both a curse and a blessing, as it keeps me off the couch at the end of the day. By the time my late-night drawing is done, work is the farthest thing from my mind.
I'm really happy with what I produced this week, despite the fact that it sets the bar pretty high for the final 9.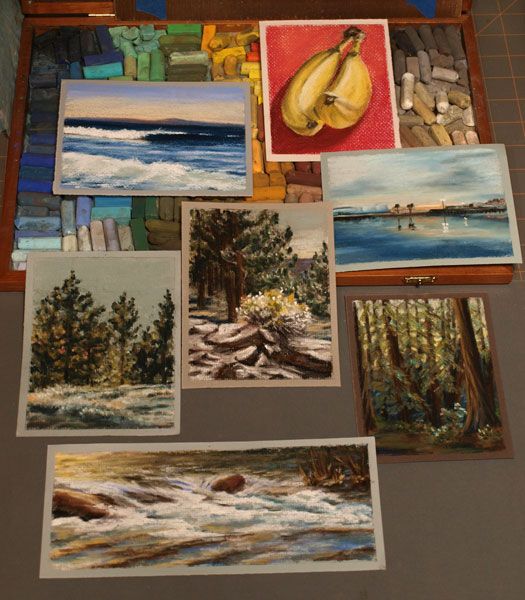 This week was more challenging than last. I was more motivated to pull weeds than to pick up my pastels. My work grew more and more finicky despite my attempts to stay loose, and I even threw away a drawing last night after overworking it. Haven't done that in years, preferring instead to keep a portfolio of failures for perspective. But I'm really pleased with the tiny pine trees and the tiny brown mountains, so two successes out of six attempts ain't so bad.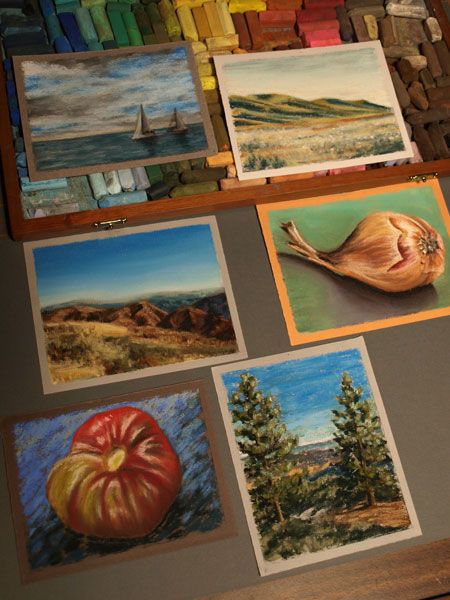 14 drawings complete. 14 days down. 16 to go.